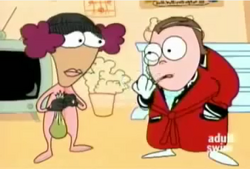 The Queen of Diamonds is one of the movies made by Brendon and his friends. In this movie, the Queen of Diamonds is trying to steal diamonds from her father without him noticing. This movie is seen in the season two episode, Class Trip and during the episode, Brendon tries to sneak away from the field trip without his mother Paula noticing and finds a location in the hotel to film the movie.
Ad blocker interference detected!
Wikia is a free-to-use site that makes money from advertising. We have a modified experience for viewers using ad blockers

Wikia is not accessible if you've made further modifications. Remove the custom ad blocker rule(s) and the page will load as expected.