Welcome to the Home Movies Wiki
Home Movies is an American animated television sitcom that was originally broadcast from April 26, 1999 to April 4, 2004. Brendon Small is the creator, head writer, and lead musician of Home Movies. Jon Benjamin, Melissa Bardin Galsky and Janine Ditullio also lent their voices to the show. The plot surrounds eight-year-old Brendon Small, who makes films with his friends Melissa Robbins and Jason Penopolis in his basement of his three story house, where he lives with his divorced mother, Paula, and his adopted baby sister, Josie. Brendon as very few friends like his alcoholic, short-tempered soccer coach , John McGuirk who acts like a father figure to Brendon, Walter and Perry, and more.
Welcome to Home Movies Wiki, an encyclopedia of all things presented in the popular TV show Home Movies. This site uses MediaWiki software, which allows any user to edit or create pages. This site currently contains 222 articles.
Affiliates
Featured Article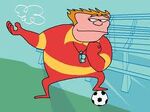 John McGuirk (Voiced by H. Jon Benjamin) is Brendon and Melissa's incompetent, acerbic soccer coach; an overweight, alcoholic Irish-American who constantly gives Brendon bad advice. McGuirk considers Brendon, Melissa and Jason his friends and will usually help them out or stick up for them even though he is often rude to them (especially Melissa). He often attempts to portray a father figure for Brendon, as in the show's finale. Also, he frequently attempts to reach out to Mr.Lynch and Melissa's dad, Erik; however his misguided attempts often fail due mainly to his poor attitude. He often tries to impress or court Paula, Brendon's mother. McGuirk also admits that he hates soccer and has never played soccer, despite being the elementary school's soccer coach.
Which article should be featured next?
Ad blocker interference detected!
Wikia is a free-to-use site that makes money from advertising. We have a modified experience for viewers using ad blockers

Wikia is not accessible if you've made further modifications. Remove the custom ad blocker rule(s) and the page will load as expected.