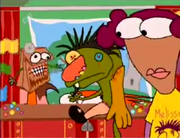 Don't Put Marbles In Your Nose is a educational movie made by Brendon and his friends. It was seen in the season one episode, Mortgages & Marbles. The message of the educational movie is to not stick marbles up your nose. However when Brendon shows the video to a group of toddles at his school, they misunderstood the message and they start sticking marbles up their noses.
When Spiky McMarbles says when he's lucky, he uses his nose as a hose (meaning by sticking marbles up his nose). Then Melissa tells Spiky not to stick marbles up his nose and then Dr. Teachum tells Spiky that he's going to do an operation to get the marbles out of his nose. Melissa asks Spiky why he sticks marbles up his nose and he says that he can't hold them between his toes. Melissa recommends that Spiky should put his marbles in his pouch and then Dr. Teachum starts the operation to take the marbles out of his nose. The movie ends with the music video of Don't Put Marbles In Your Nose by Dwayne's band Scäb.
Brendon Small as Spiky McMarbles (puppet)
Jason Penopolis as Dr. Teachum (puppet)
Melissa Robbins as Herself
Ad blocker interference detected!
Wikia is a free-to-use site that makes money from advertising. We have a modified experience for viewers using ad blockers

Wikia is not accessible if you've made further modifications. Remove the custom ad blocker rule(s) and the page will load as expected.